Use RSA keys stored in CyberArk AIM vault to scan Unix hosts
You can use your RSA keys stored in the CyberArk AIM vault to scan your Unix/Linux hosts. It is required to use CyberArk Central Credential Provider (CCP) with the CyberArk AIM vault.
Note that if you are using the CyberArk PIM Suite vault then upgrade to CyberArk AIM vault if you want to use RSA keys.
Create a CyberArk AIM vault
Simply go to Scans > Authentication > New > Authentication Vaults. Then choose CyberArk AIM vault from the New menu. In the vault record, provide vault credentials to securely access sensitive information stored in the vault. Just click Launch Help in the vault record to understand the types of credentials that can be stored in the vault and how to retrieve them at scan time.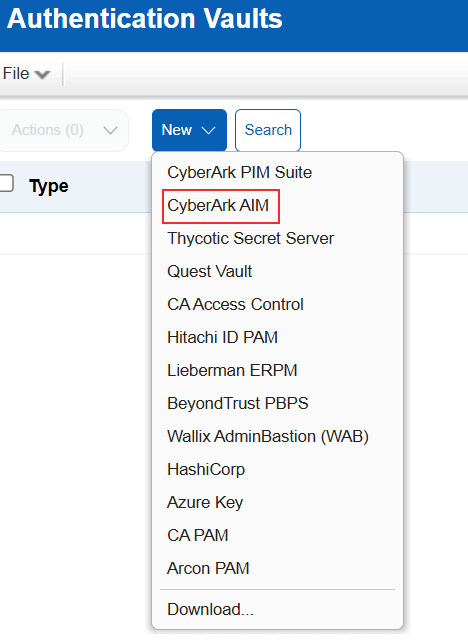 Create a Unix record
Go to Scan > Authentication > New and choose Unix Record. Follow the wizard and provide required information.
Make sure you use the CyberArk AIM vault you created for the login credentials and in the Private Keys tab select the RSA keys you want to use for this record.
Want to use the Qualys API?
Use our APIs to create Unix records and define a CyberArk AIM vault. Click here to get the latest information and samples.