Create Policies
A policy is a collection of controls used to measure and report compliance for a set of resources. Your compliance reports will show you resource compliance status (pass or fail) with the policy controls.
System Defined Policy
TotalCloud continuously discovers resources and ensures resources are compliant in relation to respective Benchmark & Best Practices policy provided out-of box. To know more about the policies we currently support, click here.
Set Up Your Own Policy (Custom Policy)
You can create your own custom policy and associate the required controls to be evaluated for the custom policy.
(1) Navigate to Policy > Policy > New. Show meShow me

(2) Provide the basic details for the custom policy such as name, description, select the cloud provider, and select the type of execution controls to be included in the policy.
You could choose the controls depending on their execution type:
- Run Time – controls for evaluations on deployed cloud resources.
- Build Time – controls for evaluations on cloud resources within the IaC templates.
Click Next. Show meShow me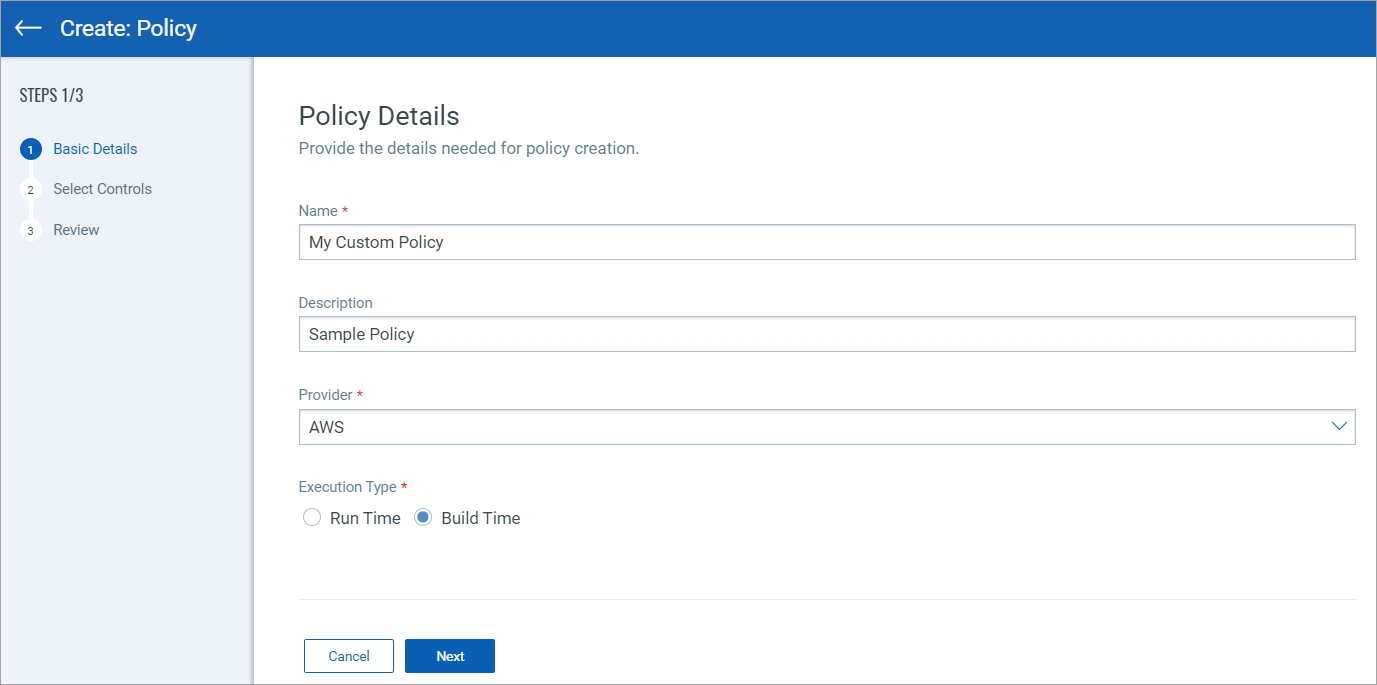 (3) Associating Controls:
- System Defined
- User defined
Select the controls to be associated with the policy and click Add. Click Next. Show meShow me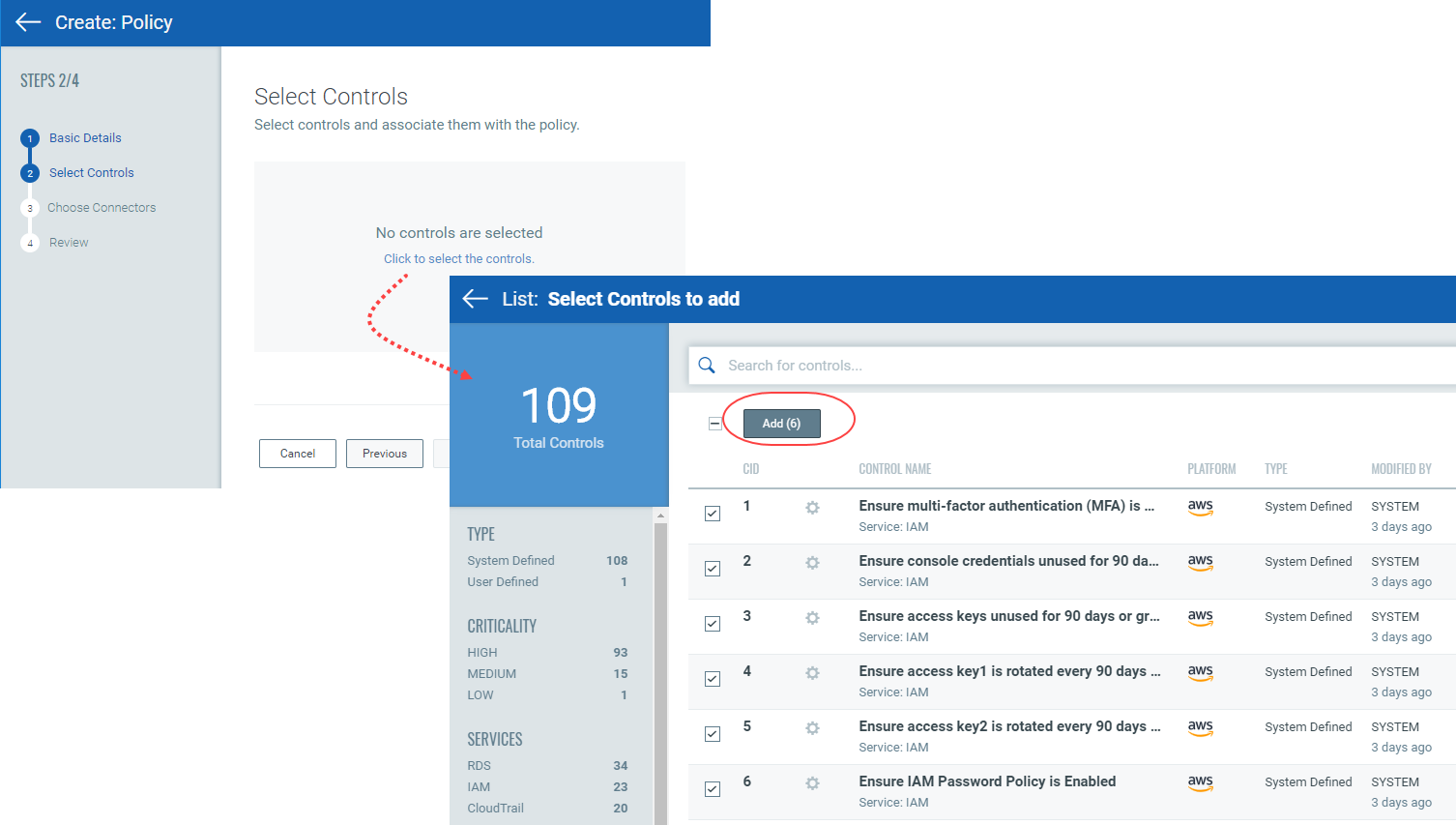 You can associate system-defined controls or create your own custom control using existing control to suit your need. Learn more
(4) Select the connector tags or connectors that should be analyzed for policy compliance. Show meShow me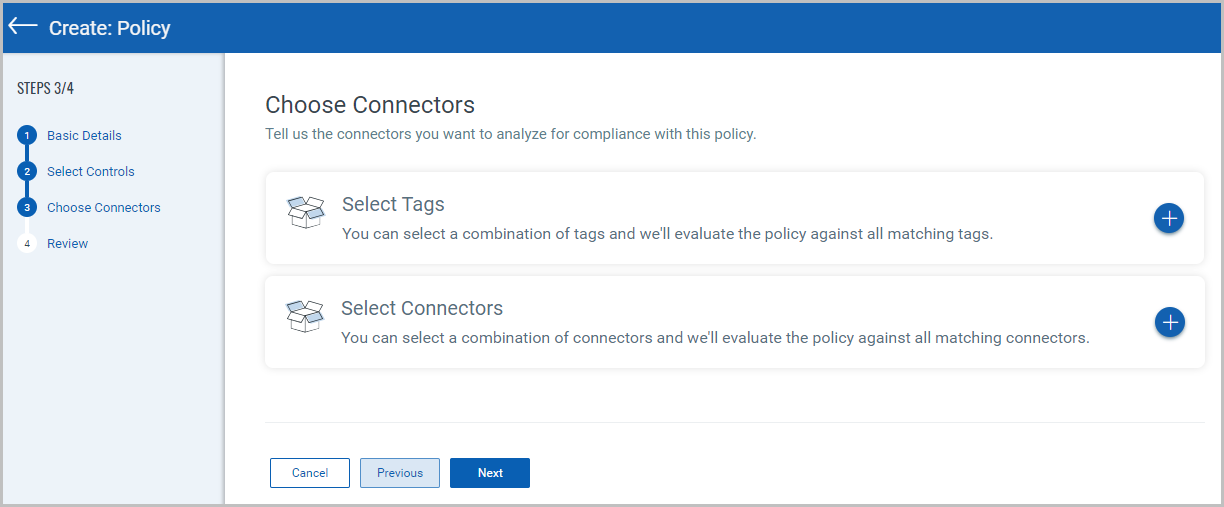 Click Next. That's it. Your custom policy is ready to use.
Policy Search
Find all about your policies and get up-to-date information quickly using Qualys Advanced Search. Start typing in the Search field and we'll show you the properties you can search such as policy.name, provider, and so on. Select the one you're interested in.

Now enter the value you want to match, and press Enter. That's it! Your matches will appear in the list. For detailed steps on how to form search queries, click here.
Associating Controls
You could create your policy by associating relevant controls to it. Learn more