Patching from VMDR
From the VMDR application, based on the VMDR Prioritization report, you can identify the vulnerabilities to remediate first. Also, you get an insight into the patches to fix the vulnerabilities. In the VMDR Prioritization report, you can see the count of patches you can deploy to address the vulnerabilities. By clicking Patch Now, you can initiate the process of patching the vulnerabilities.

The Patch Now is disabled if any of the following conditions are not met:
-  Latest patch is missing
-  Patch installation will be done through an automatic method
-  Software is not installed at the default location, which is C:\Program Files.
-  For a QID, if there is no latest missing patch associated with it in Patch Management for the given criteria of the assets.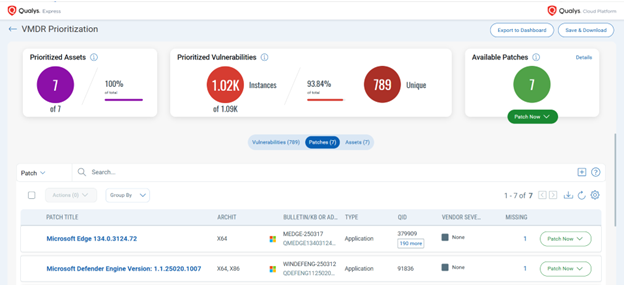 You can perform one of the following actions. To learn more information about Windows, Linux, and Mac patches and the rest of the two actions, see Reading the VMDR Prioritization Report.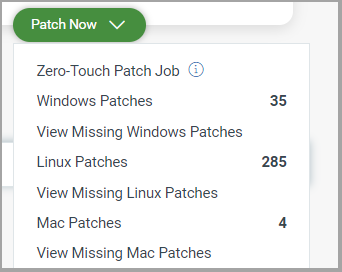 When you choose to patch Windows, Linux, or Mac patches, you can:
- Add all patches to a new job or an existing job.
- Add individual patches to a new job or an existing job.

After you select the required option, the Patch Management application opens in another tab, and you need to complete the job creation steps to create the patch job.

Creating Patch Job for Windows Assets

Creating Patch Job for Linux Assets

Creating Patch Job for Mac Assets