Vendor Patch and OS Patch Failure Error Codes
Apart from the Patch-specific failure reasons, the patch deployment can fail due to OS issues or a vendor patch issue.
The following are the vendor patch and OS patch failure issues:
- HTTP Status: Issues related to the internet. For more information, see Response Status Codes.
- OS Status: Issues related to the OS. For more information about Windows-specific error codes, see Debug system error codes.
- Exit Code: Issues related to vendor-specific software. To find more information about the issues related to the vendor-specific software, visit the vendor site.
Note: You can find more details about the Linux-specific patch failure by clicking the More Details link from the REASON column. The Failure Details window opens, wherein you can see the patch failure details, such as the name of the failed package, exit code, and error message.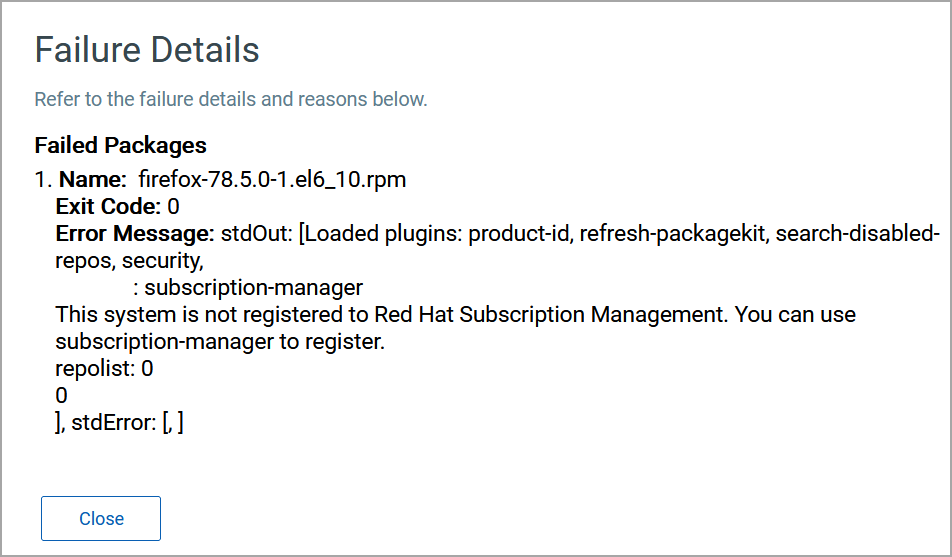 Important to Know!
4317 OS Status error code
Refer to the following screenshot that shows the 4317 error code. To know more about the root cause of this error code and the troubleshooting guidance, see this article.