Create a Copy of the Dashboard
The Create Copy option allows you to create a copy of the dashboard with or without selecting the tags and share the copied dashboard with multiple teams. It copies all the dashboard content. Using this option, you can copy existing dashboards with the desired asset tags and persist these tags. 
Perform the following steps to create a dashboard copy:
1. From the Dashboard tab, click the dashboard selector

 and type the dashboard name of the dashboard you want to search. 
2. Select the dashboard to view the dashboard. 
3. Click the Tools

 menu and click Create Copy.

4. The Create a Copy window includes the Dashboard Name and the option to use the selected asset tags. Thus, you can create a blank dashboard copy without adding any tags. By default, the copy for the dashboard name is similar to the original dashboard name and is followed by "copy."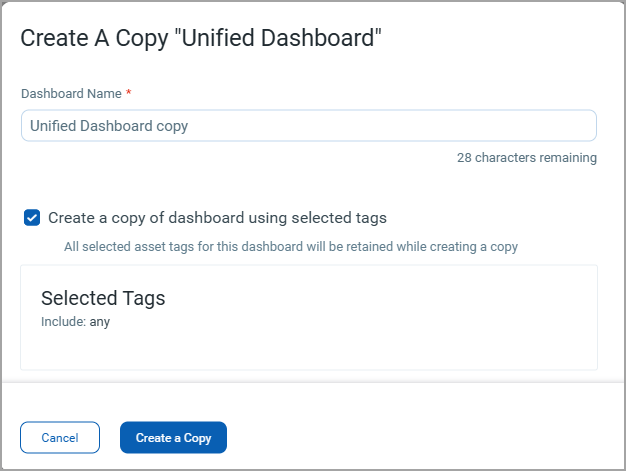 5. A notification on the screen's top-right corner, "Copy of the dashboard successfully." confirms the copy has been created successfully. 
Note: If you create a copy of the dashboard with a few selected tags and have trending enabled for a widget, the trending will not be displayed for the copied dashboard. For more information, see Trending in Unified Dashboard
Additional Resources